Our Severn Plumbing Service Is the Answer!

Congratulations, your search for a
phenomenal plumbing service has just ended. Plug our number into your Smartphone immediately and then to continue on to learn why you just made one of the best decisions of your life. Our Severn plumbing service is the absolute best around with decades of experience with the homes and businesses in the Metro D.C. area. We've seen things that you could never imagine and when our plumbers are done with them, there was no sign that there was ever anything wrong.

Our Severn Plumbing contractors are ready to jump to your aid any time of the day, like real-life superheroes (only without the fancy tights or the powers). If you woke up to get a midnight snack and ended up with a face full of spray from a broken faucet, we can be there fast – usually within the hour – and have it fixed before sunrise. Our plumbers can also handle all of your plumbing installation needs, water conservation consultations and new construction questions. Our plumbers do it all, and we do it right.
Our Plumbers Do Water Heater Repair

One of the most common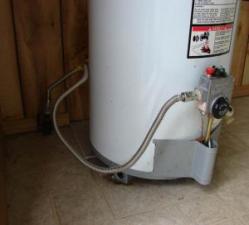 problems our plumbers have in Severn is with water heaters. Most people simply don't think about their water heaters until there's a problem. Because most standard tank-style water heaters were designed to last about 10 to 11 years and often go unchecked for years at a time, chances are yours is either on its last leg or could use some serious maintenance. Our Severn water heater repair specialists are able to quickly diagnose and repair major issues as well as recognize less noticeable indicators that there may be a problem beginning. With our preventative focus, our plumbers usually can add a few years to the life of your current system and save you money while doing so.
Preventative Plumbing Saves Bucks & Makes Sense

This focus on prevention over
repair is what really makes us stand out in the Severn plumbing community. Sure there are plenty of choices you could have made, but by reaching this page you have found the A+ service associates that you deserve. We're going to go to the floor, and under it, to make sure you are satisfied. Our plumbers guarantee it, 100%.

Here's a short recap. We are the best choice in Severn plumbing because we are available 24/7, we can save you money with our preventative maintenance focus, and our plumbers offer a 100% service satisfaction guarantee. If you haven't bookmarked this page and placed our number on your emergency contact list yet here are just a few more reasons to do it now:

All of our contractors are fully licensed and insured
Every member of our team has undergone a thorough background check and drug screening
We offer over 100 specialty services
We do home heating & cooling service and repair as well
We deliver results not excuses
Our contractors treat you like a person no a job number
We spend as much time studying new plumbing developments as we do working on current ones
We speak in down-to-Earth terms
We give written estimates
Our contractors want you to make informed decisions
Our plumbers offer a full line of preventative services
Still have questions? Call one of our Severn plumbing representatives now and get the answers you need!